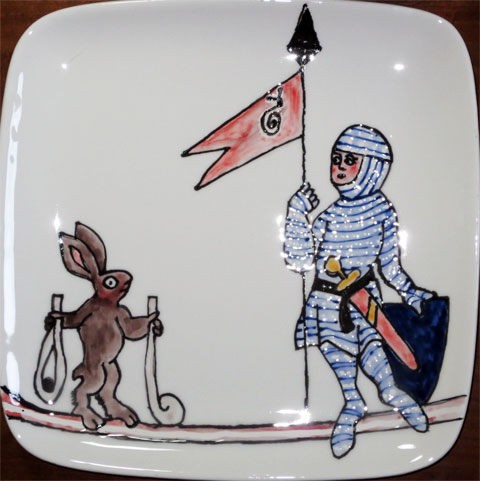 HARE AS DAVID v. GOLIATH
A timely reminder of God as protector. The bishop has just circled for the first time the church he is dedicating and pauses to ask God for His protection. Below, in the margin the hare in her rôle of the disadvantaged with David's weapon, the lowly slingshot and a shepherds crook, confronts a Goliath of an opponent, who in addition to a mail coif and helmet, wears a mail surcoat and carries a sword, a spear and a shield. The personal armorial charge of a snail on his forked pennon is hardly a proud boast of prowess and suggests he will be vanquished as was Goliath.
(Cambridge, Fitzwiliam Museum MS 298, vol. I of the Pontifical of Renaud de Bar, fol. 7).
Square dish
Ref: 015b
Price: €50 + p&p